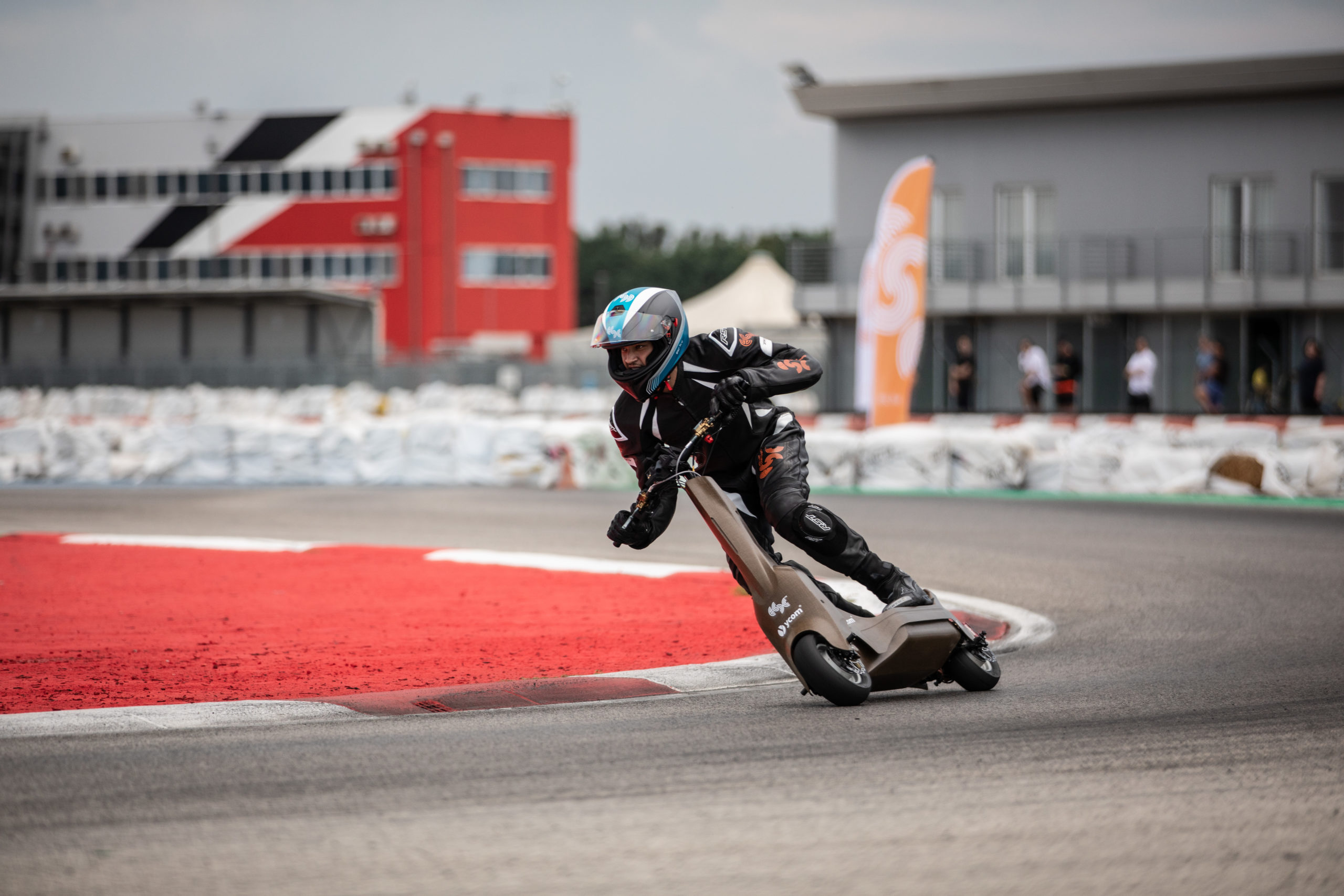 25 Aug

Groundbreaking race series turns to YCOM for e-mobility solution

"We have just completed delivery and testing of our first official product – the high-performance YCOM S1-X eSkootr. It is the result of our work with the eSkootr Championship, a new motorsport series built upon e-mobility and frontier innovation. This case study highlights some of the challenges involved in this project and the agile approach that our engineering team took to ensure the project's success." – Nicola Scimeca, YCOM Founder and CBDO
The challenge: new race series, new technology
Formed in 2020, the eSkootr Championship (eSC) is the world's first micromobility racing series. Its opening season in 2022 will see fierce racing between 30 competitors on specially designed circuits from 400- to 800-metres long. Intended to raise awareness of e-mobility and promote the rapid advancement of sustainable transportation solutions, the eSC marks a new chapter in motorsport history.
In the opening seasons, the eSC decided that it would minimize entry costs to make the sport more accessible by introducing a standardized race vehicle for all competitors. Before YCOM's involvement, some development and prototyping progress had been made, but the design was far from finalized. YCOM had three and a half months to develop the prototype and then an additional month and a half to produce 10 race-ready versions. If the program was delayed, the eSC's first testing sessions and races would not be possible.
The YCOM solution: motorsport engineering and technology meet mobility
Having worked on the launch of multiple new race series as both a supplier and customer, YCOM understood the challenges faced by eSC. Following a number of discussions about the eSkootr's requirements and a thorough evaluation of the early prototype's performance, YCOM entered into a new, collaborative partnership with eSC to complete development and production of the S1-X.
With extensive expertise in designing and manufacturing technology for motorsport – including Formula 1 and FIA World Endurance Championship winners – YCOM was well-positioned to develop, build and supply eSkootrs to the eSC. The engineering team worked swiftly, drawing from their experience in developing other high-performance electric vehicles, like Volkswagen's incredibly fast, all-electric I.D. R Pike's Peak car.
Monitored by weekly update meetings with eSC, YCOM set to developing the S1-X.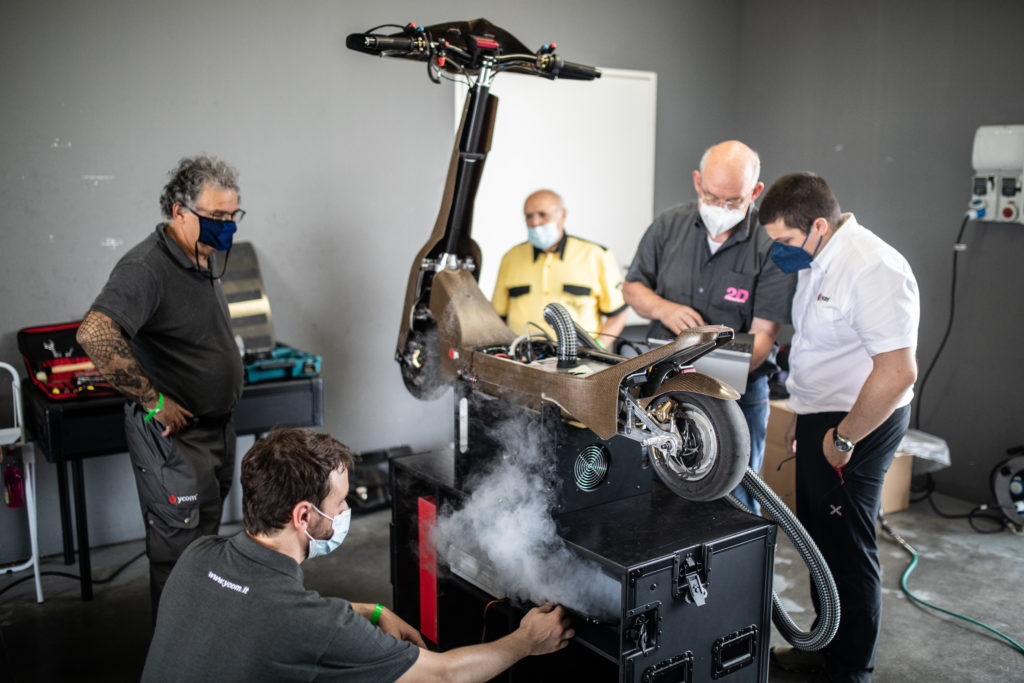 The result: a revolutionary new high-performance electric racing eSkootr  
With an agile approach, YCOM was able to accelerate the S1-X's development, taking the initial prototype to a production-ready design and ensuring that it was delivered in time for the first official eSC tests and races. Now YCOM's first official product, the S1-X is one of the world's most extreme high-performance electric scooters.
It utilizes two compact, state-of-the-art 6kW electric motors in combination with a 1.5kWh battery supplied by Williams Advanced Engineering. The S1-X's carbon fiber chassis is clad with aerodynamic and environmentally-friendly bodywork, with adjustable front and rear suspension elements made from CNC-machined aluminum. All of these lightweight components mean that the eSkootr weighs just 35kg.
To enhance high-speed stability, a torque delivery system balances output between the front and rear wheels. A temporary boost function is also available to riders during races. The S1-X eclipses conventional street scooters – in the same way, a race car has much higher performance than a family sedan – and is capable of achieving race speeds in excess of 100km/h (62mph).
Conclusion: the 'end' is just the beginning
This partnership and project featured advanced engineering, design, materials and manufacturing. The result was the development of an all-new racing vehicle for a pioneering electric racing series within three and a half months. With short timescales and a significant amount of development work and production required, YCOM was able to meet the requirements of its partnership with eSC and deliver the first 10 vehicles in time for pre-season testing, and 20 more will be ready for the opening races.
Now, following YCOM's rigorous twenty-day testing program, the capability of the S1-X has successfully demonstrated, surprising riders with both its power and agility.  Analysis of telemetry has highlighted the reliability of the Skootr, with no major hardware or software issues found over the course of testing. The Skootr Control Unit (SCU), developed in-house, has been further refined for two-wheel-drive including five motor maps for both front and rear.
In a collective test with 16 different riders, the S1-X was initially limited to 40 per cent power, rising up to 70 per cent by the end of testing. Even at this output, many riders were fatigued by the physical demands of such speeds and lean angles of up to 55 degrees. With improved physical conditioning and additional practice in October testing, it is hoped that the riders will be able to use 100 per cent power as well as the additional 20 per cent temporary boost function in the first race.
From here, the long-term partnership between YCOM and the eSC is only set to grow stronger.
Hrag Sarkissian, eSkootr Championship™ co-founder and CEO, said: "YCOM's ability to translate its team's knowledge, expertise and experience from other fast-paced motorsport development projects to a completely novel electric micromobility race vehicle highlights just how quickly they can adapt while maintaining an exceptional standard of engineering and production quality. They had very little time to make the S1-X project a reality and they achieved it while keeping us updated every step of the way.
"Our ambition is for the eSC to push the e-mobility envelope and champion sustainable solutions, YCOM aligns perfectly with these aims and this long-term partnership is already proving invaluable. We congratulate YCOM on its first official product, what an incredibly exciting way to enter the e-mobility market."